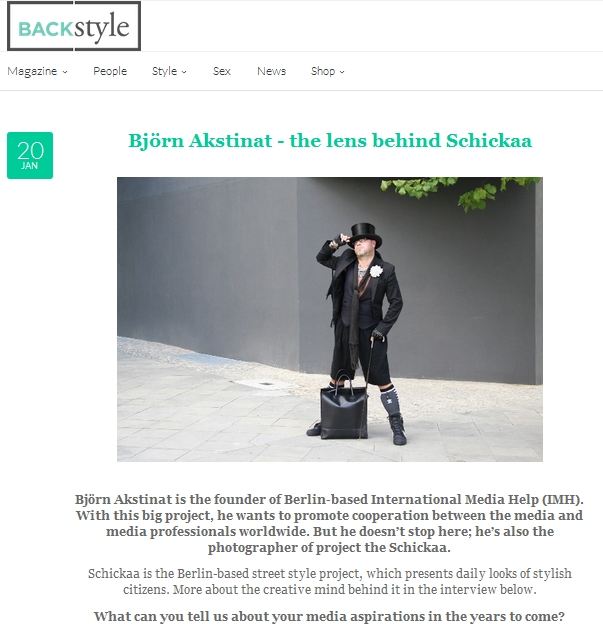 Björn Akstinat – the lens behind Schickaa
Björn Akstinat is the founder of Berlin-based International Media Help (IMH). With this big project he wants to promote cooperation between the media and media professionals worldwide. But he doesn't stop here; he's also the photographer of the project Schickaa. Schickaa is the Berlin-based street style project, which presents daily looks of stylish citizens. More about the creative mind behind it in the interview below.
What can you tell us about your media aspirations in the years to come?
Akstinat: Schickaa.com should be the destination for everyone who wants to learn about the real Berlin street fashion.
How do you feel about the online craze, especially about social media?
Akstinat: The internet and social networks bring together people who would otherwise never have come into contact.
What does the Schickaa name mean?
Akstinat: "Schickaa" is derived from "schick", the short German word for "trendy". At the same time, the name of our website reminds of "chica", the Spanish word for "girl".
How do you spot a street style look, what do you look for?
Akstinat: For schickaa.com I look for men and women who have a natural and, at the same time, exceptional appearance. They have to be among the people who surround you, whose clothing is easily noticed.
Do you have any favorite snap shots of chic people?
Akstinat: I like a lot of the pictures on schickaa.com. It's a difficult decision. I especially like the elegant look of Günther Anton Krabbenhöft from Berlin-Kreuzberg.
Have you ever lost a day's work, let's say all the photos?
Akstinat: No, luckily, that's never happened to me. But sometimes I notice in my office after photographs or shootings in the street that many pictures are useless, because the sun was bad or the wind blew the models' hair.
What's the first thing you do when you come home?
Akstinat: When I come back from photo shoots, I check out the photos taken.
Do Berlin people have a similar style; is it unique among other cities in your opinion?
Akstinat: In Berlin there is no uniform and unique style. Different styles are tried out in Berlin. Each district is different and has a different style. In Friedrichshain we have many alternative types, in Mitte – many hipsters, and in Charlottenburg – many older, yet stylish people.
If you could live in a city other than Berlin, which one would you choose?
Akstinat: I would choose London, where the mixture of history and modernity is very interesting!
Could you stay a weekend without your camera or phone?
Akstinat: That would not be a problem. I do this often.
Photography is…
Akstinat: … a wonderful way to capture moments.
When I want to relax I…
Akstinat: … listen to audio plays.
Sex is…
Akstinat: … one of the key drivers of good fashion. Some design exceptional fashion, to impress, and others wear unusual fashion to be attractive.
In my wardrobe…
Akstinat: … there is still not enough expensive clothing.
Style is…
Akstinat: You have it or you don't. It is quite difficult to learn how to dress elegantly.